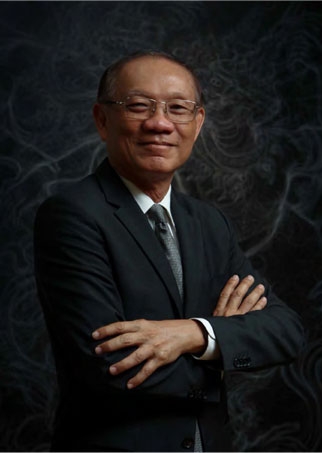 Dear Shareholders
According to the recovery of the Thai economy and the global economy after the COVID-19 pandemic and the LTV measure (Loan-to-Value ratio) and measures to reduce ownership transfer fees and mortgage registration fees, these are the factors driving consumers' housing buying decisions, leading more foreign tourists to visit Thailand. As a result, the overall real estate market in 2022 recovered and grew from 2021.
In 2022, the Company was able to break both sales and revenue records since its business operation for more than 34 years. The sales reached 32,433 million baht, increased by 35% compared with the year 2021. Both low-rise and high-rise products in Bangkok, its vicinity areas, and major cities in upcountry provinces nationwide grew due to the different designs and continuous development, which could meet the needs of residents of all ages and genders. The living spaces and house designs are increased for options, including function adjustments.
The goal is to allow all projects to be a "Good House" that is comfortable for living, cost-effective, livable, safe, and practical from over 30 years of experience under the concept of "Supalai Built for Real Life". It focuses on residential design innovation which is a new series to enhance the quality of life of customers, such as Romantic Charm and Wellness Residence, to support the lifestyle of all target customers and increase the variety of products. In addition, the Company continues developing more low-rise projects with a price range of 10-30 million baht and applying the home automation system to the project, including the product addition of resort-style villas, houses for the elderly, and office buildings. This is to diversify risk and increase growth potential. Including, the "SUPALAI SABAI" application was developed to meet the needs of customers in an integrated manner.
The Company focuses on sustainable real estate development and is committed to innovating new home designs by emphasizing on customer service innovation and attention to society and all around the environment. The project "Supalai Srangdee" is ready to drive green housing innovation by selecting construction materials with an emphasis on energy savings and reduction of heat, water consumption, waste, and greenhouse gas emissions. Waste management projects are organized and the "Good Build" concept is cultivated in every process from sales to after-sales service. Technologies are applied to all processes together with the development of operational processes and personnel through Agile Transformation Project.
Such commitment enables the Company to continue receiving a TRIS Rating at A/Stable level and honorary awards from a number of leading organizations, which are the testament of its credibility, such as CECI: Action for Sustainable Future, Circular Economy in Construction Industry, Thai construction for Efficient Use of Resources and Sustainable Environment, Outstanding Establishment in the category of Labor Relations and Welfare for 5 consecutive years, Community Forest Promoting Agency Award, Star for Children for organizations assisting and supporting projects for underprivileged and disadvantaged children, 2022 Thailand Sustainability Investment (THSI) or "Sustainable Stocks", Outstanding Investor Relations Awards for 6 consecutive years, Asia Pacific Property Awards 2021 - 2022 in the category of Mixed Use Development, FINALIST in the group of "Best Brand Performance on Social Media" in the category of Real Estate & Property Development, Outstanding Real Estate FIABCI - Thai Prix D' Excellence Awards 2022 for 4 consecutive years, BCI Asia Top 10 Developers Awards 2022 for 12 consecutive years, ranking in the "Excellent" category for 10 consecutive years, CAC Change Agent Award 2022, Best Development Awards in the category of Best Sea View Pool Villa, House and Building with Label No. 5 for Tropical Modern Series Award, Sustainability Disclosure Recognition 2022 for 4 consecutive years.
In 2023, the Company continues implementing its sustainable growth policy in terms of sales and revenue with plans to launch 37 new projects worth 41,000 million baht, covering all product types, prices, and locations.
For over 30 years, the Company Group has adhered and focused on sustainable business operations by emphasizing on creating the right balance in 3 dimensions: economy, society, and environment, based on good corporate governance and risk management principles, creating a better quality of life for people in society with an awareness of social responsibility towards sustainable development according to the SDGs (Sustainable Development Goals), innovating residences together with the continuous development of societies, including educational activities, education, family, health, environment, and cultural. The Company continues adhering to the code of ethics and legality while developing business partners to cover the good principles of supply chain in order to benefit all stakeholders, including society, to lead Supalai forward and steady growth.
(Dr.Prateep Tangmatitham)
Chairman of the Board of Directors
Supalai Public Company Limited